Bishop of Ludlow urges church to 'reclaim Halloween'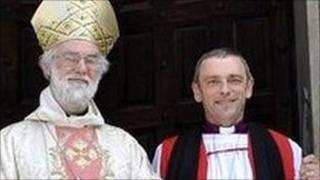 A Shropshire bishop has said parishioners should throw a Halloween party, saying it is time for churches to reclaim the festival.
The Right Reverend Alistair Magowan, Bishop of Ludlow, said churches should do more to highlight the Christian story as stores sell Halloween items.
The bishop said Halloween, the evening before All Saints' Day, "can be part of the Church's calendar".
He said All Saints' Day showed people "can win" over darkness.
The bishop urged parishioners to throw a party on Sunday "and have a good time".
He said: "I'm all for people having fun but I'd want to add, watch out for those things that are maybe more sinister or dark.
"Human beings occasionally like to be scared a little bit and to have that 'ooooh' factor but they don't want to be terrified.
"All Saints is a great opportunity to say 'yes, there is darkness out there but the light is much bigger'."