Shropshire Council looks at £60m renewable energy plan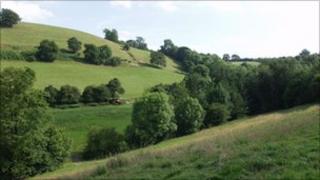 A renewable energy company is planning to spend £60m on the construction of five large solar energy sites in Shropshire.
Wind and Solar Systems said they could be laid out on farmers' fields.
The company plans to submit more details to Shropshire Council next month and the council confirmed the project was in the pipeline.
The firm said it had already identified some potential sites on grazing land in the west of the county.
Crop growing
It said each 25-acre installation wouid be hidden behind hedges and would be just three metres high at the tallest.
It hoped universities, landowners and investors would be involved in monitoring the efficiency of each station.
Wind and Solar Systems said government grants were making projects like this commercially viable now and there was even the possibility of growing crops underneath the solar panels.
Stuart Thomas, central area development management at Shropshire Council, said: "We have given some pre-application planning advice after being approached by the company, and await the submission of any formal planning application."