Rare Buddhist item fails to sell at Shrewsbury auction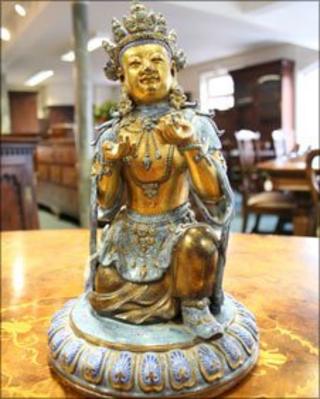 A rare Buddhist figure expected to reach £40,000 at auction has failed to meet its reserve, auctioneers say.
The 29cm (11.4 inches) statue was made in China for a Tibetan official or in Tibet for a Chinese official, Halls auctioneers in Shrewsbury had said.
It is only the third time in 10 years such a piece has come up for auction in the UK, he added.
Despite interest from bidders in China and London it did not reach the £20,000 reserve.
Halls Art Director Jeremy Lamond said he still hoped to sell the figure of Avalokitesvara, which means "Lord who looks down".
The figure came from a private collection, he added.