Council to rethink Bishop's Castle biomass plant plan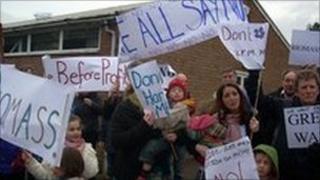 Shropshire Council's cabinet has been told to reconsider a controversial decision to sell land to developers who want to build a biomass power plant.
The development scrutiny committee announced its decision over the plan for Bishop's Castle on Tuesday evening.
Seventeen protesters told the meeting their concerns about the plant. One concern is the environmental impact.
The plan, by Bishop's Castle Biomass Power Ltd, was approved at a public inquiry last year.
The firm said it did not want to comment on the latest development.
At Tuesday's meeting, the committee unanimously agreed to send the matter back to the cabinet to reconsider.
More than 200 people attended and there was a standing ovation and cheers when the decision was announced.
'Health hazards'
The firm has said the plant would create a "robust" power supply for the area using renewable fuels like woodchip to generate energy.
However, opponents claim the plant would pollute and damage the landscape.
Committee chairman Alan Mosley said the decision was made because of the "massive weight of public opposition" and because it believed the sale contradicted some of the council's community strategy.
"There is also a strong and widespread perception and fear of potential health hazards and cabinet should follow the precautionary principle," he said.
He added the committee felt the tender process over the sale of the land was too short and it recommended another tender process should be instigated.
Planning inspector John Woolcock approved plans for the plant last September following a public inquiry. He imposed 37 conditions on the plans, including that only clean woodchip would be used.