BT accused after explosion in Shrewsbury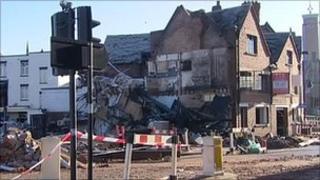 National Grid holds BT liable for an explosion in Shrewsbury in which 12 people were injured, according to legal correspondence seen by the BBC.
It happened at the corner of Bridge Street and Smithfield Road in January.
A letter from solicitors acting for National Grid to BT Legal claimed a concrete chamber was laid in an incorrect position and built over an existing gas main.
BT said there was no evidence to date which attributes fault to it.
In a statement, the firm said it was aware of the fact that a gas explosion occurred on 3 January and that claims had been brought as a result.
'Bending stress'
Parts of the town centre were closed for more than a month after the incident.
The Health and Safety Executive is investigating, but has not said when its report will be published.
Sarah Pearse, 20, was living in a nearby flat when she was caught up in the explosion.
She suffered extensive burns and spent three out of seven weeks in hospital sedated.
She said she still suffered with anxiety attacks and depression as a result of the blast and was pursuing a legal claim for compensation which she said could be a long process.
"I would rather that they spent a long time getting the right person, rather than just getting anyone who maybe wasn't responsible in the first place," she said.
In the letter seen by the BBC, Eversheds solicitors, acting for National Grid, said it detailed findings of a National Grid investigation following the explosion at 1 Bridge Street.
It said: "The only escape of natural gas identified was from a circumferential fracture on a 9in nominal bore, low pressure, sand spun iron gas main...
"On the north side of the fracture, concrete used to construct the BT chamber had encased the gas main to one side.
'Failed to follow'
"The bending stress on the gas main was caused by the dead weight load of the BT chamber acting downwards on the gas main as settlement occurred following construction of the BT chamber...
"BT was negligent in constructing a chamber so close to National Grid's gas main and encasing the same with concrete.
"BT failed to follow the principles and guidance of the Health and Safety Executive and the National Joint Utilities Group when considering the positioning of the chamber and was negligent in doing so....
"National Grid hold BT liable for the explosion and the losses flowing from it."
BT said it was "liaising with the parties to determine the facts and bases of any claims".
It said: "Despite several requests put to them, National Grid have provided no substantive evidence to support their allegations that BT were at fault."
National Grid has declined to answer the BBC's questions about the allegations contained in the letter from Eversheds to BT Legal.