Shrewsbury family win battle over care bill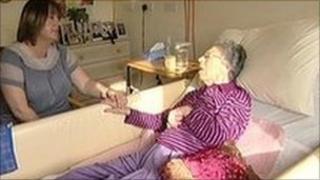 A Shropshire family have won their battle to receive the full cost of care for their disabled mother.
The family of 82-year-old Beryl Knafel, from Shrewsbury, was told she needed 24-hour care after suffering two strokes in January 2009.
Shropshire Primary Care Trust had told her she faced some of the £700 weekly costs because of a change in care funding criteria.
Shropshire Council said it had now agreed to share the costs with the PCT.
'Positive outcome'
Stephen Chandler, assistant director for Shropshire Council's Adult Social Care Services said it worked with Mrs Knafel's family to reach a resolution.
He said: "Shropshire Council Adult Social Care services have been through various financial options with the individual and her family.
"We have now been able to reach an agreement to provide financial support to Mrs Knafel, providing a positive outcome for the family."
The PCT continued to pay for Mrs Knafel's care while the family's appeal was dealt with.