Hundreds of Midlands soldiers set to go to Afghanistan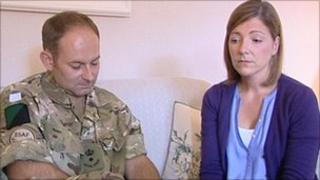 Hundreds of Midlands-based soldiers are preparing to leave their UK barracks for a third tour of Afghanistan in four years.
1st Battalion The Royal Irish Regiment is based in Tern Hill, Market Drayton, Shropshire.
More than 120 soldiers from A Company will be leaving their base at Clive Barracks on Wednesday evening.
Nine hundred soldiers are scheduled to arrive in Afghanistan by the end of next week.
'Honourable thing'
It will be some soldiers' third tour of the country.
Diane Weir, who is married to a commanding officer, said it was hard to see her husband leave.
"I suppose it's an honourable thing to do," she said.
"It's his job and if by doing that, it makes there a better place well, you have to make sacrifices don't you?"