Trust admits drug death blunder at Telford hospital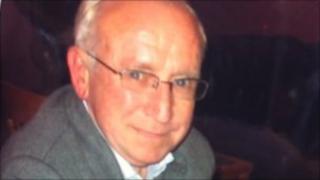 A hospital has admitted giving a patient with pneumonia and breathing difficulties a combination of drugs that led to his death.
Albert Matthews, 65, from Broseley in Shropshire, was treated at Princess Royal Hospital in Telford in 2006.
He was given painkillers which can affect breathing on top of a sedative known to cause breathing problems.
His family has been given £15,000 compensation by Shrewsbury and Telford Hospitals NHS Trust.
The trust has also apologised to Mr Matthews' family.
Sedative drug
Mr Matthews was admitted to the hospital in September 2006, less than a week before his death, and was diagnosed with pneumonia in his upper lung after complaining of shortness of breath, solicitors acting for the family said.
After deteriorating over several days, he was administered with 4mg of the drug Lorazepam on 18 September after already being given Tramadol and Haloperidol, when all three drugs are known to restrict breathing, they added.
Mr Matthews died the following day after the drugs sent him into respiratory arrest, leading to cardiac arrest.
When his wife, Mary Morris, complained to the hospital about her husband's care, the trust said appropriate medical treatment had been given.
The trust has now agreed an out of court settlement for £15,000 after admitting the combination of the drugs led to his premature death, solicitors said.
Mrs Morris said: "We are relieved that the hospital has finally accepted responsibility for their error in caring for Albert, after nearly four years.
"We sincerely hope that lessons have been learnt from this and that this never happens again."
'Apologise unreservedly'
In a statement, the trust said: "When prescribing a sedative to help alleviate Mr Matthews' symptoms, the correct checks were not made to identify that another sedative drug had already been prescribed.
"We aim to provide the highest standards of care for all of our patients, and it is devastating for all concerned when mistakes are made.
"It is vital that the NHS learns from incidents such as this, and we have reminded doctors and other prescribers to ensure that the necessary checks are made before prescribing drugs to patients.
"We apologise unreservedly and our deepest sympathies are with Mr Matthews' family."