Chaplain is appointed at RAF Shawbury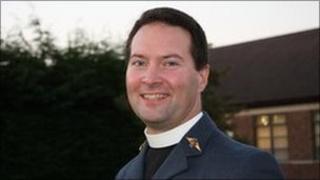 A new chaplain has been appointed at an RAF base in Shropshire.
The Reverend Chris Lawrence (37) is a former priest with the Church of England and has already spent time as a chaplain with the armed forces in Afghanistan.
He said he was looking forward to his life in the county at RAF Shawbury and was excited by the fresh challenge.
Earlier this year, 27-year-old Prince William graduated from a 12-month advanced helicopter training course at the base.
Mr Lawrence said: "I love being in a training atmosphere where we're developing people, not just training skills but helping them to grow in character, find out what their vocation is and fulfil their potential.
"For me, as a chaplain, to be part of that be helping people think through difficult questions, to reflect on ethics, that is just a deeply fulfilling thing to be doing."