Shrewsbury incinerator proposal turned down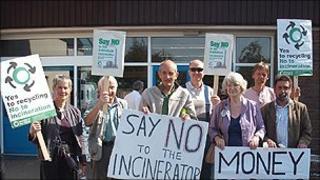 Plans for an incinerator in north Shrewsbury have been unanimously rejected by councillors.
Proposals by Veolia for an energy-from-waste facility at Battlefield were considered by Shropshire Council's strategic planning committee.
Health concerns, the suitability of the site and the visual impact the development would have on the area were among reasons stated for the refusal.
The company said it now has to consider its position.
'Wonderful reaction'
Veolia said the development would have generated power for about 10,000 homes.
All 10 councillors voted to refuse the application.
The proposals by Veolia were for a facility to be built at Battlefield next to the existing household waste and recycling centre on Vanguard Way.
On arrival at the meeting at Meole Brace School, the committee members were greeted by campaigners bearing placards with messages opposing the plans.
Councillor Alan Mosely, who opposed the plans, said it was "a wonderful reaction by the planners".
He said: "They have taken a rational view of it.
"They have listened to the clear views of residents throughout Shrewsbury and also throughout Shropshire.
"I think the various pressure groups and various residents groups will continue to fight this tooth and nail and if there is an appeal and an inquiry, then we'll have another set piece as we've seen today."
Sixteen public speakers gave arguments for and against the development.
One of the public speakers opposing the plans, Shrewsbury Conservative MP Daniel Kawcynski, said: "It restores my faith in democracy."
John Collis, a consultant for Veolia, said: "We acknowledge the decision. We now have to consider our position and the grounds for refusal and then at a future date make our intentions clear.
"I don't believe it to be a correct decision, but that is the decision and we'll have to live with it."