Telford and Wrekin communities pitch 2,000 project bids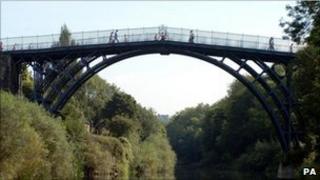 Residents have come up with more than 2,000 ideas about how communities in Shropshire can be improved under a £150,000 scheme.
Telford and Wrekin Council asked residents to put forward suggestions for the '£££ for Projects' scheme.
Project ideas put forward include community cafes, promotion of fun runs and a spring fair to encourage use of conservation areas.
A panel will now decide which of the ideas will be turned into projects.
Communities 'inspired'
The panel is made up of the council's cabinet, parish councillors and voluntary representatives.
The successful projects will be rolled out in the autumn and result in £4,500 being spent in each ward in the borough.
Councillor Sean Kelly, lead cabinet member for the project, said residents had been inspired by the scheme which was "the first of its kind" in the country.
He said it aimed to put residents at the heart of decision-making.
"This is not life-changing sums of money we're talking about here, but the projects that will be delivered are likely to make a real difference to local people," he said.