High heels hill walk raises funds for Help the Heroes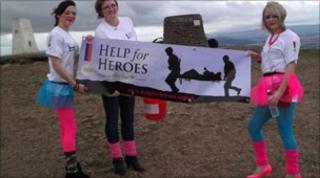 Three women have walked up a 1,334ft (407m) Shropshire hill in high heel to raised money for charity.
Marianne Morris, her sister Sarah and mother Sue, from Telford, wore tutus, false eyelashes and leg warmers for the walk up The Wrekin.
Marianne Morris, who wore 4in peep-toe shoes, said: "We've got no blisters - it wasn't as bad as we thought it would be."
The sponsored walk raised £300 for Help For Heroes.
Ms Morris said the charity, which raises funds for wounded service personnel and their families, was one she fully supported.
"I have lots of friends in the Army and quite a lot of my family are in the Army," she said.
"So it's for a good cause and I back it all the way."
Ms Morris added they were discussing other ways of fundraising for the charity and were considering swimming with sharks next year.