Youth bailed after arson attacks in Telford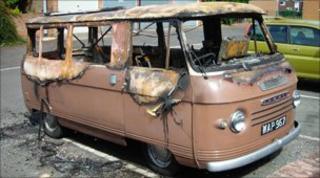 A youth has been arrested after a series of arson attacks on camper vans and cars in a Shropshire town.
Firefighters dealt with five vehicle fires on the Sutton Hill estate, in Telford, in the early hours of Saturday.
The youth was arrested and released on bail as inquiries into the incidents continued, West Mercia Police said.
One man was treated for the effects of smoke inhalation after his camper van was among those targeted.
Ron Hyde, from St Ives, Cornwall, has described how he managed to extinguish burning curtains after being woken by a "large bang".
Craig Jackson, crew manager at Tweedale, said they had received three callouts to the area, including one prank call.
Patrols by officers and council wardens have been stepped up in the area.