Tree crushes cars at Shrewsbury steam event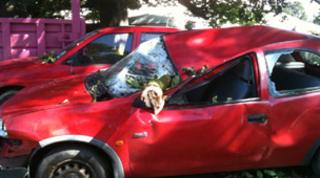 A large tree has fallen and crushed at least two cars at a steam rally event in Shropshire.
The chestnut tree fell at the Shrewsbury Steam Rally at Onslow Park when there was a large gust of wind.
John Onions, show organiser, said it fell in a non-public area but left an official with minor injuries and a young boy had scratches to his leg.
No-one else is thought to have been hurt. Mr Onions said crews were going to remove the tree with chain saws.
'Very lucky'
Mr Onions, who is chairman of the County of Salop Steam Engine Society which runs the event, said several other cars had been scratched when it fell on Sunday morning.
"We had a strong gust of wind and that's blown a tree down in a non-public area - behind the public bar," he said.
"It's close to where the officials have their encampment and close to where I have my caravan so I actually saw what happened."
He added: "We've only had a minor injury of one of the officials and a little lad who got a scratched leg, so we're very lucky really - but it was a non-public area."
He said the public bar had been closed off, but the event was continuing on Monday and had seen a good turnout.
Mr Onions added: "I think there are probably a couple of cars that are write-offs when we can get to see them and quite a few scratched cars."