Man hurt in camper van arson attacks in Telford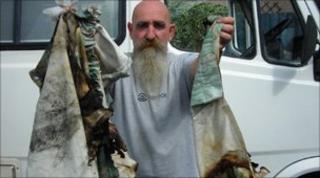 A man has been treated for smoke inhalation after the camper van he was sleeping in was among vehicles deliberately set alight in Shropshire.
Firefighters dealt with five vehicle fires on the Sutton Hill estate, in Telford, in the early hours.
Ron Hyde, from St Ives, Cornwall, managed to extinguish burning curtains after being woken by a "large bang".
Police said the incidents were being treated as arson and may be linked to other crimes previously reported.
Mr Hyde, who was staying outside the house of a friend, said he was left shaken by the fire, which happened about 0400 BST.
"I was asleep in the back of the van when I heard a big bang," he said.
"I looked down the van and thought I'd left a light on in the front. But when I had a good look it was flames coming up.
Mr Hyde grabbed a fire extinguisher and put out burning curtains and dragged them outside the vehicle. He was treated for smoke inhalation by ambulance crews.
Craig Jackson, crew manager at Tweedale, said they had received three callouts to the area, including one prank call.
He said first callout at about 0030 BST in Selbourne was to a vehicle fire which had been started deliberately.
At 0330 BST the fire service were told some rubbish outside the same property was alight, but when crews attended the scene they realised it was a malicious call.
The third call came about an hour later, when crews were called to a fire in Summerhill, Sutton Hill.
'Potential to kill'
Mr Jackson said "On arrival there were two vehicles alight - one camper van and one saloon vehicle that are some distance apart," he said.
Mr Jackson said that while crews were dealing these incidents they were alerted about the fire at Mr Hyde's camper van and a caravan fire nearby in Southfield.
Insp Martin Barnes, of West Mercia Police, said the incidents were very serious.
"Any arson has the potential to kill there is no doubt about that," he said.
He said there had been a number of incidents in that area over the past six months, including criminal damage and people causing a nuisance.
Forensic investigations are taking place at the scene and police appealed for any witnesses to come forward.
Patrols by officers and council wardens have been stepped up in the area.