Shropshire air show hosts 200 model planes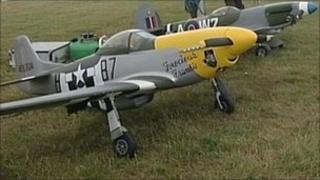 Two hundred model planes have taken to the skies at a show marking the 70th anniversary of the Battle of Britain.
The Large Model Association's event at RAF Cosford in Shropshire has included items with wingspans ranging from 7ft (2m) to 20ft (6m).
Commentator Mike Craddock said the show was recreating the sight of a raid to Germany by putting the fighters up, followed by the Lancasters and B17s.
Some Battle of Britain models can take up to five years to build.
The Battle of Britain began on 10 July 1940 when German Luftwaffe bombed London and the South East and lasted until October that same year.
Churchill called the battle Britain's finest hour, and it helped change the course of World War II.
Some 3,000 British and Allied airmen fought back to stop a possible invasion, with more than 500 losing their lives.