Sir Lenny Henry receives honorary Oxford University degree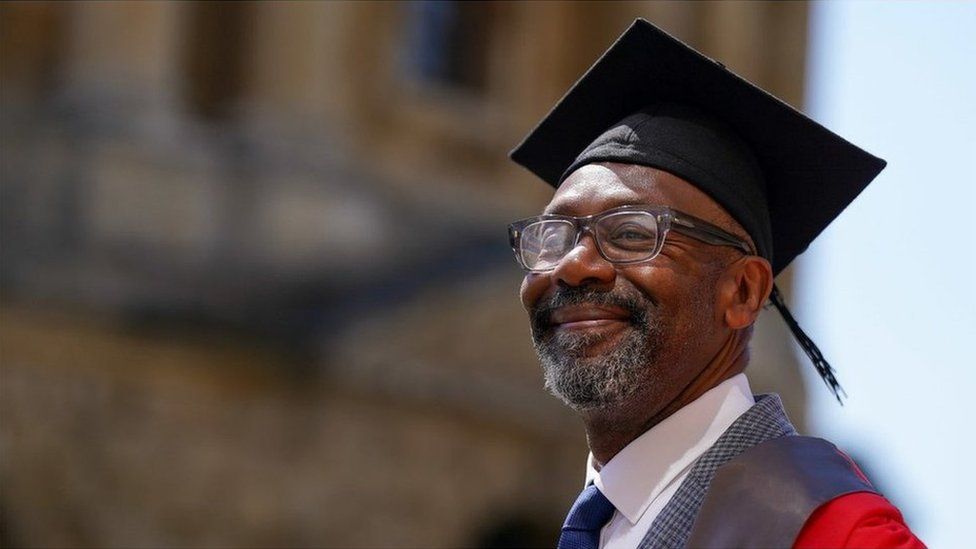 Sir Lenny Henry has collected an honorary degree from Oxford University.
The actor and comedian wore a ceremonial red and black robe and mortarboard hat for the ceremony at the Sheldonian Theatre.
Sir Lenny was among nine recipients to receive the honour, which also included Paris, Texas director Wim Wenders.
Dame Louise Richardson, vice-chancellor, said they had "enlightened us, entertained us and improved the lives of people around the world".
Encaenia is the ceremony at which the university awards honorary degrees to distinguished men and women, and commemorates its benefactors.
Sir Lenny, 63, took time out before the annual event to have tea with staff and students.
The other attendees awarded degrees were:
British scientist and organic chemist Bernard Taylor
Atmospheric scientist Prof Susan Solomon
American social scientist Prof Theda Skocpol
Ecologist Dr Jane Lubchenco
American medievalist Prof William Chester Jordan
Telecommunications entrepreneur Dr Mo Ibrahim
Surgeon and politician Prof Ara Warkes Darzi, Baron Darzi of Denham.
Dame Louise Richardson said they had made "myriad accomplishments" across a "wide range of fields".
Christ Church was thrilled to host Sir Lenny Henry as he received an honorary degree from the University of Oxford during the annual Encaenia ceremony today! Staff and students enjoyed tea with the comedian before he donned his robes to receive the award at the Sheldonian Theatre pic.twitter.com/GIH9tTO7WY

— Christ Church (@ChCh_Oxford) June 22, 2022
Sir Lenny, who was born in Dudley, in the West Midlands, won the talent competition New Faces in 1975 when he was 16 years old.
He then presented Tiswas, fronted The Lenny Henry Show and co-founded Comic Relief, alongside Richard Curtis in 1985.
Recently he has taken more serious roles on TV, including in Broadchurch, The Syndicate, The Long Song, Danny And The Human Zoo and as a villain in Doctor Who.
Sir Lenny received a knighthood from the Queen at Windsor Castle in 2015 and a Bafta Award for outstanding contribution to television the following year.
He set up The Lenny Henry Centre for Diversity at Birmingham City University, where he is chancellor.
Related Internet Links
The BBC is not responsible for the content of external sites.