The Ultimate Picture Palace: Squatters, sharks and Stanley Kubrick
By Dave Gilyeat
BBC News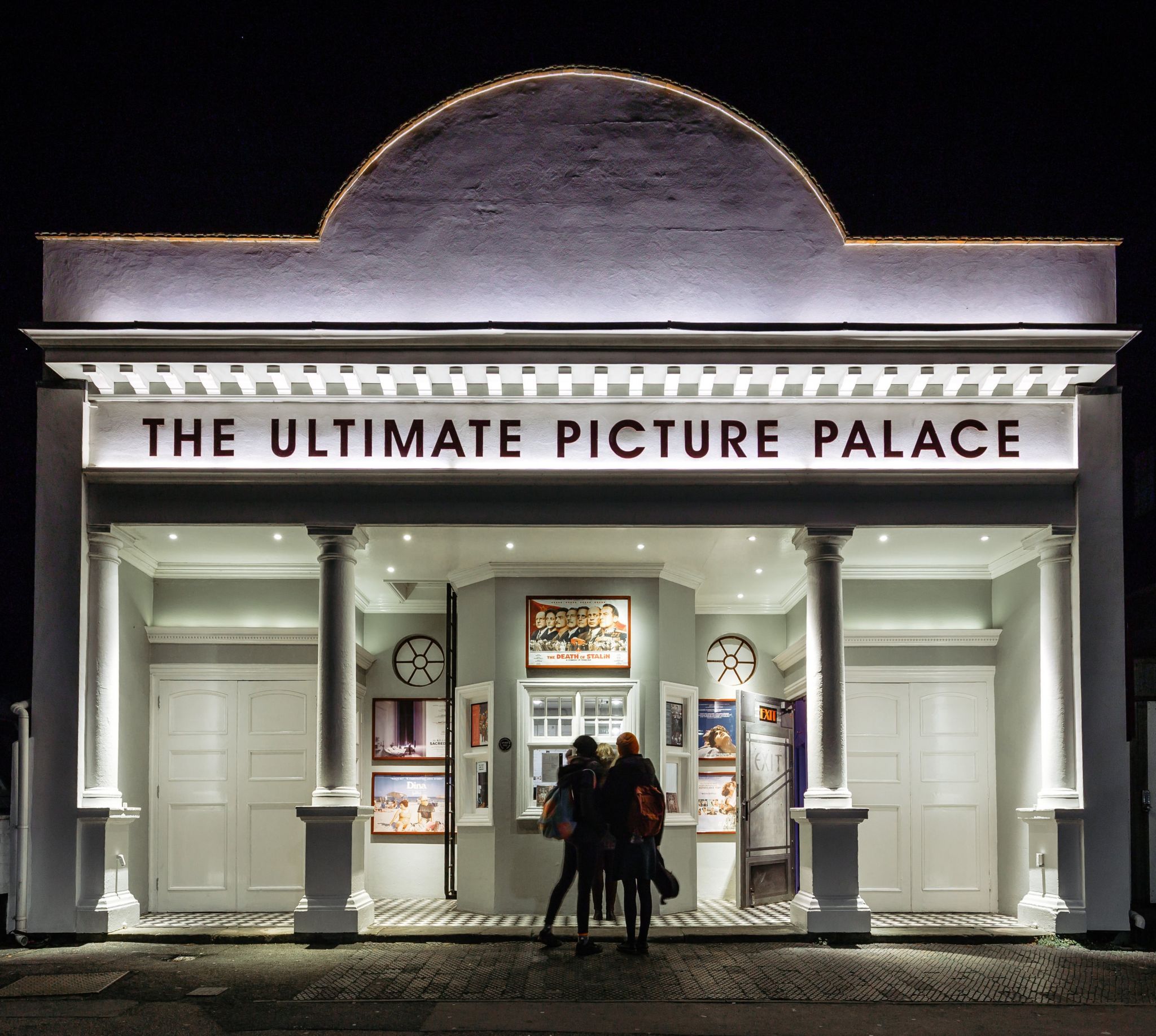 It was Oxford's first purpose-built cinema and over the course of 111 years its destiny has been shaped by Edwardian entrepreneurs, furniture salesmen, squatters, Stanley Kubrick and a local eccentric with a shark in his roof.
As a campaign to sell enough shares to run the cinema as a community asset hits its target, we look back on its eventful history.
"I was frightened by this curious big, black building that had these ginormous white hands jutting out the front and wondered what on Earth it was."
Vez Hoper remembers The Ultimate Picture Palace (UPP) as it was, back when it was adorned with the image of performer Al Jonson and his 3D gloved hands reaching outwards.
"It's always been owned by someone local, it's been successful and not-so successful, it's weathered life like we do… and it's also championed films of all kinds," she says.
The little cinema in Jeune Street in Cowley has touched the lives of many, with Sam Mendes, Hugh Bonneville, Chris Morris and BAFTA CEO Pippa Harris among those who have expressed a fondness for it.
Originally known as The East Oxford Picture Palace, it was built in 1911 by local actor Frank Stuart.
He had projected films at theatre variety shows, but this was the first time a building in the city was constructed for the express purpose of showing them.
Built in The Elm Tree pub's stable yard, and without toilet facilities - cinemagoers had to pop next door to spend a penny - it was an instant hit, showing short films, newsreels and even sports events.
Ian Meyrick, writer of Oxfordshire Cinemas, says: "They showed the Oxford-Cambridge boat race on the day it was rowed.
"It was in the evening so they must have gone up to London, had it processed and then sent it back, so that was impressive."
World War One brought the first iteration of the cinema to a close, when later manager Horace Froude was conscripted.
Mr Meyrick says: "By the time he came back it was such a small little place, quite primitive, and they were beginning to build bigger and better cinemas so it wasn't worth reopening."
It would be more than half a century before the cinema showed another film. It deteriorated and crumbled and ended up being used as a furniture storehouse.
"I managed to get into it and it looked absolutely derelict," Mr Meyrick admits. "They stacked it full of old three piece suites.
"I didn't think there was a chance of it reopening, I don't think anybody did."
Bill Heine, an American who had studied at Oxford University, was determined to bring the building back to life together with fellow alumni Pablo Butcher.
After a huge overhaul, it reopened as The Penultimate Picture Palace in 1974, becoming a magnet to students and locals who were drawn to its eclectic array of arthouse and foreign films.
The revamp included the overdue installation of toilets and two statues either side of the screen nicknamed Pearl and Dean.
The man behind the statues was sculptor John Buckley who would later cook up Oxford's most eccentric landmark with Mr Heine, the Headington Shark.
Mr Hind said: "Bill was to an extent pushing against the system and showing films that you wouldn't be able to see, not because they weren't popular, but because they were ones he felt people were being prevented from seeing."
This rebellious streak came to a head in the 1990s when a planned showing of the then banned A Clockwork Orange caused a furore and ended up with Mr Heine in court.
As he told The Ultimate Survivor documentary: "I like the legal profession a lot, because when people are out to kill you, they do it with such finesse.
"Kubrick's lawyers were ready to close us down."
Mr Meyrick explains: "Bill was a very stubborn man and he wouldn't be told what to do.
"They literally had a full cinema with the tape in the machine ready to go when Kubrick's representatives came in."
Mr Heine eventually backed down, and The Penultimate Picture Palace was nearing its end too. In 1994 it showed its last film, Cinema Paradiso.
But this time when the cinema shut, it did not stand idle.
A group of squatters were keen to keep it alive, and renamed it Section 6 Cinema, putting on film showings and gigs.
Ms Hoper remembers watching the Star Wars trilogy projected on to a bedsheet and the cinema being "really dirty, really minimal, and really smelly".
"We were literally just sitting on dirt and loving the madness of it all.
"What I remember is the sense of community, in a place where everyone was getting together and roughing it but absolutely adoring it. It felt so revolutionary."
Historic England awarded the cinema Grade-II listed status, and after another makeover it reopened under its current name, run by brothers Saied and Zaid Marham.
Its last owner was Becky Hallsmith, who bought it in 2011 and installed a digital projector and new seating.
Ms Hoper feels that her influence could prove to be the UPP's lasting legacy.
"The cinema came and went, and came and went, and never quite nailed it," she says.
"But Becky came in and completely nailed it and made it the most successful it's ever been."
Ms Hallsmith passed away in 2018 and the cinema went up for sale again, with its future secured after the campaign exceeded its £312,575 target.
"We can see this as the gradual takeover of communities starting to rule the world again," Ms Hoper claims.
Mr Hind adds: "This cinema has had constant renewal with people coming to its rescue. And at the end of the day... it's still showing films."
Related Internet Links
The BBC is not responsible for the content of external sites.