Ukrainian Olympic rower and wife 'so grateful' after escaping to England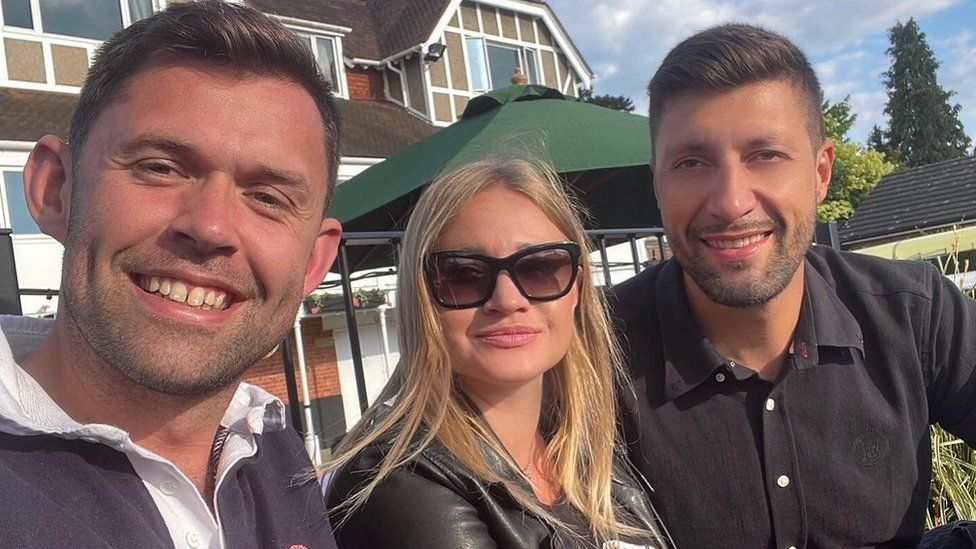 A Ukrainian Olympic rower and his pregnant wife have described how hard it was to leave their home and family in Ukraine after escaping to England.
Dmytro Mikhai and Dasha Kutanova are living in Nettlebed with the family of Team GB rower and former captain of Henley's Leander Club Jack Beaumont.
Mr Beaumont contacted his friend and former competitor to offer his help after the Russian invasion.
"We are very grateful to Jack," Mr Mikhai told the BBC.
Under the government's Homes for Ukraine scheme, the couple are living with Mr Beaumont's father Peter Beaumont and stepmother Eira Parry in the Oxfordshire village.
Mr Mikhai has been able to continue his training at Leander Club and Ms Kutanova has got a job working in a local cafe.
Mr Mikhai said: "We are very grateful to Jack for introducing us to his family, and to Eira and Peter for their generosity in sharing their home with us.
"Leaving our home and family in Ukraine has been so hard, but they have helped us to settle in to the community and to navigate all the complexities of starting a life in the UK, like opening bank accounts, finding work and applying for a longer term residency permit.
"The community in Nettlebed and Henley have been so welcoming, we feel like we make friends everywhere we go."
He said while the couple love living with their hosts, they worry about having a newborn in someone else's home.
"We would really like to find an apartment nearby where we can start our family life with our new baby, but still be close to our Homes for Ukraine sponsors and our new friends in the area," he added.
When Russia launched its invasion, Mr Mikhai was at a rowing training camp in Turkey while Ms Kutanova was staying with her mother in Kherson in southern Ukraine - the first city seized by Russian troops.
The women spent days locked in the bathroom of their apartment because of the constant shelling.
Ms Kutanova eventually managed to flee in a car with a friend. They put a basket of vegetables on the back seat and at every roadblock told the Russian soldiers they were delivering food to the next village.
Making their way along roads they knew were mined, they eventually made it to the port city of Odessa where they got a boat to Romania before driving to Turkey to meet up with their husbands.
"She's lucky to be alive," said Ms Parry.
Related Internet Links
The BBC is not responsible for the content of external sites.