Oxford low-traffic neighbourhood measures targeted by vandals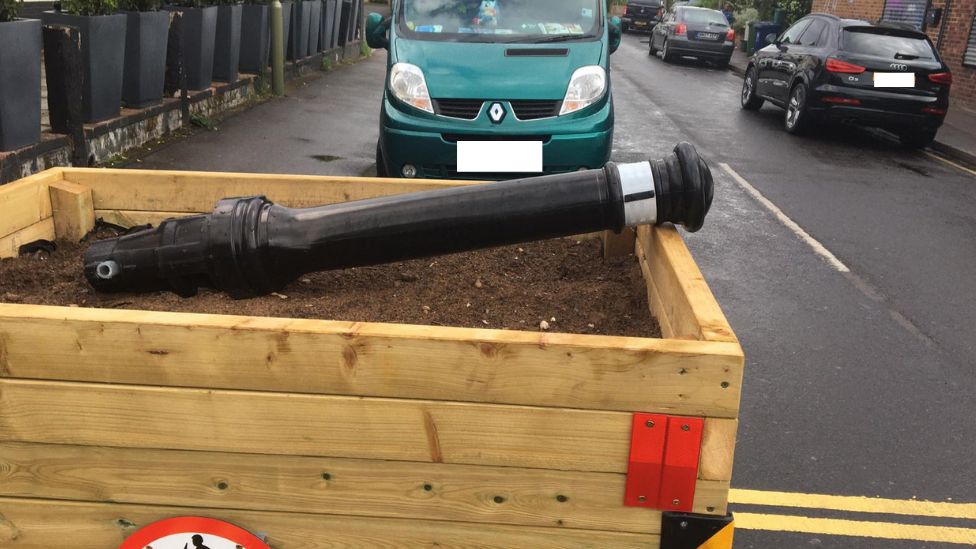 Controversial traffic-calming measures have been vandalised only days after they were introduced.
A trial of three Low Traffic Neighbourhoods (LTNs) in the Divinity Road, St Clement's and St Mary's areas of Oxford began last week.
The idea of the LTNs is to block one end of a road to allow resident access, but prevent them being used as short-cuts.
LTNs have been criticised by some for shifting congestion elsewhere.
Local county councillor Damian Haywood said bollards and planters blocking roads had been deliberately damaged.
Thames Valley Police confirmed it was investigating an incident in Divinity Road which was reported on Saturday and urged anyone with information to get in touch.
Mr Haywood said residents had reported bollards being ripped up and power tools used to dismantle the wooden planters.
"They are very disappointed that a very, very small minority has taken the decision to destroy something to assist in more active travel measures," he said.
"I wish people would let the experiment run - if you disagree with it, you can't just cause criminal damage by ripping out these bollards.
"It's a legitimate issue we need to look at - if it causes congestion on the main roads - but we will have to wait and see, we have to run the experiment and collect the data and people's opinions," he said.
The first LTNs were introduced in Church Cowley, Temple Cowley and Florence Park in March 2021.
They have been popular with some residents who say they have made streets safer, but others believe LTNs have made roads elsewhere more congested and damaged business.
Related Internet Links
The BBC is not responsible for the content of external sites.