Cecil Rhodes statue decision delayed for second time
By Michael Race
BBC News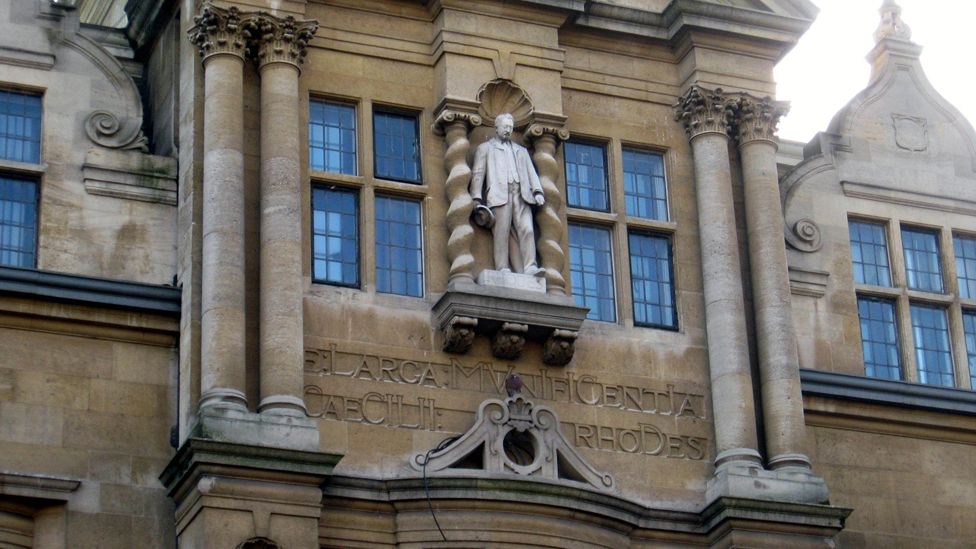 A decision over the future of a statue of British imperialist Cecil Rhodes has been delayed for a second time.
But a spokeswoman said "no date" had been set for the report as the work was taking a "little longer than expected".
In a statement to the BBC, she added it was the "final stages" of the commission's work that had caused the second delay.
A report had been due to be published in January but the commission delayed it until the spring due to a "considerable volume of submissions".
Campaigners want the statue to be removed because they say Rhodes, a 19th Century businessman and politician in southern Africa, represented white supremacy and was steeped in colonialism and racism.
The statue sits above a doorway on the front of the college's Rhodes Building, which faces Oxford's High Street.
Rhodes was a student at Oxford and a member of Oriel College in the 1870s. He left money to the college on his death in 1902
He was an imperialist, businessman and politician who played a dominant role in southern Africa in the late 19th Century, driving the annexation of vast swathes of land
Born the son of a vicar in Bishop's Stortford, Hertfordshire, in 1853, he first went to Africa at the age of 17; grew cotton with his brother in Natal, but moved into diamond mining, founding De Beers, which until recently controlled the global trade
Rhodes's bequest continues to finance scholarships bearing his name, allowing overseas students to come to Oxford University; among the 8,000 students who have been awarded it is former US President Bill Clinton
Controversial even in his own time, Rhodes backed the disastrous Jameson Raid of 1895, in which a small British force tried to overthrow the gold-rich Transvaal Republic, helping prompt the Second Boer War, in which tens of thousands died
A commission spokesperson previously said, despite the vote, there were no preconditions on what the review group could decide.
Once the commission's report has been published, its recommendations will be considered by Oriel College's governing body, which will decide on the statue's future.
Any decision to move the statue would require planning permission from Oxford City Council.
The commission deciding on its future included broadcaster Zeinab Badawi, former Conservative shadow culture secretary Peter Ainsworth and Oxford Labour councillor Shaista Aziz.
The Rhodes Must Fall campaign began in South Africa, where a Rhodes statue was removed, and was adopted in Oxford by campaigners who argued his views were incompatible with an "inclusive culture" at the university.