Oxford 'tiny forests' planted to promote biodiversity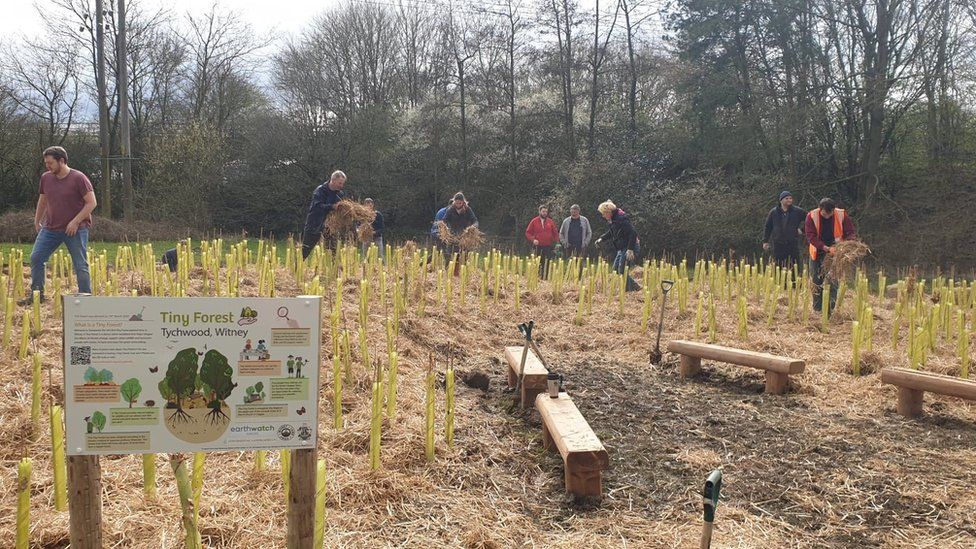 Two "tiny forests" are being planted in Oxford to create wildlife havens and help city-goers connect with nature.
About 600 densely planted trees will fill each tennis court-sized plot at Meadow Lane Nature Reserve and Foxwell Drive.
Oxford City Council is working with environment charity Earthwatch Europe on the scheme, which was postponed last year due to the coronavirus pandemic.
The two new forests were due to be planted with the help of schoolchildren, but due to Covid-19 landscaping contractors are instead carrying out the work.
The council said they would "provide an oasis for plants, insects, birds and small mammals" and "support general wellbeing" for people in the area.
Linda Smith, cabinet member for leisure and parks, said: "Despite their small size, they deliver significant tangible benefits, including flood mitigation, havens for wildlife, and spaces for people to connect with nature."
She added: "I hope these tiny pockets of nature will bring pleasure to the local community for decades to come."
Louise Hartley, of Oxford-based Earthwatch Europe, said she hoped the work, which was funded by the OVO Foundation's Climate Changers Programme and from Defra's Green Recovery Challenge Fund, would "inspire others to support a tiny forest in their local area".
The forests are expected to benefit Cheney School, Barton Park Primary School and Rose Hill Primary School with outdoor classrooms and workshops.
Earthwatch said it would also use the sites for scientific research, collecting data on carbon absorption, flood mitigation, and biodiversity.
Related Internet Links
The BBC is not responsible for the content of external sites.