Lloyds bank manager 'sacked for helping customer' headhunted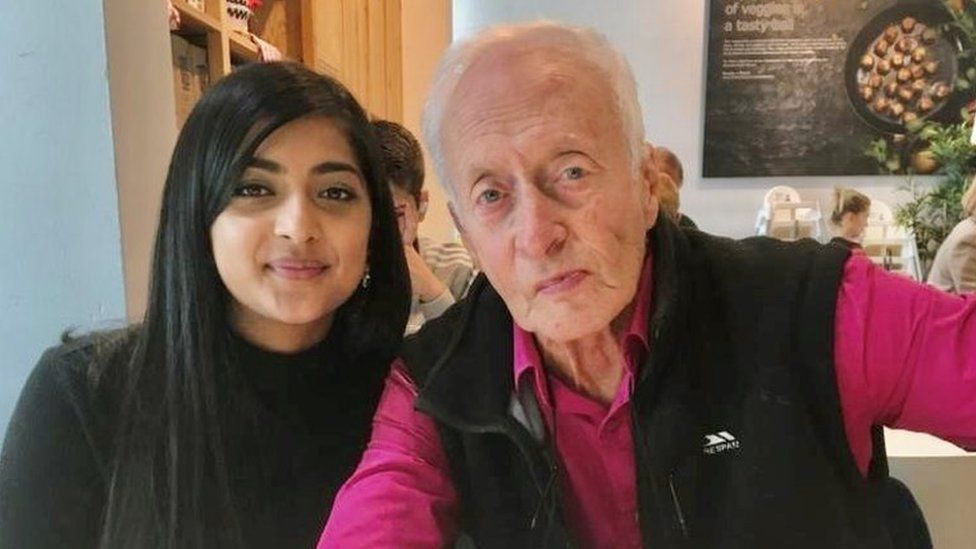 A bank manager sacked after helping a visually impaired customer open his mail has been headhunted for her "above and beyond customer service".
Nadia Begum lost her job at a branch of Lloyds in Oxford after assisting Clifford Weedon, 86, with tasks as his eyesight worsened.
Lloyds said its decision was based on ensuring customers were protected by its "colleague code of responsibility".
Mr Weedon said he was "absolutely over the moon" Ms Begum was working again.
The pair became friends when they had dealings at the Carfax branch, but as the pensioner's eyesight grew worse he said Ms Begum became a "godsend".
Mr Weedon, from Headington, said any suggestion he was taken advantage of was "absolutely ridiculous", describing the bank's decision to fire her as "horrendous".
"She's an angel in disguise," he said. "I've never met a person like her."
Both Mr Weedon and Ms Begum said when the bank found out about their friendship it carried out an investigation, but no illegal activity was discovered.
Ms Begum said: "I thought that's my career over, and how am I ever going to get another job?
"I was getting married, I stopped eating for a while, I was stressing the whole time."
She said "there was a light at the end of the tunnel" in the form of several job offers, including one from the director of energy provider Octopus Energy, which she accepted.
Ms Begum told the BBC she had been "put on a pedestal" at the new company for the same reason she lost her job at the bank.
Chief executive Greg Jackson said when he heard her story "I knew immediately that we needed to hire her".
He added: "Nadia's warmth and humanity was the perfect fit.
"I was worried in fact that she might have already been snapped up but we were so excited that once we'd reached out, she accepted a role.
"She's already a star, I'm so pleased to see that she's settled in with us."
A Lloyds Banking Group spokesperson said a tribunal on Ms Begum's case was scheduled for next year and that it would be inappropriate to comment.
They added: "Supporting and protecting our customers is our absolute priority. To ensure this happens we have a colleague code of responsibility in place to safeguard both our colleagues and customers.
"In this instance our standards were not met."
But Ms Begum said she had already decided not to go ahead with the tribunal.
"Eighteen months on, I don't want to put myself through it any more, and I want to look forward," she said.
Related Internet Links
The BBC is not responsible for the content of external sites.