Water dyed black at Chinnor quarry to deter swimmers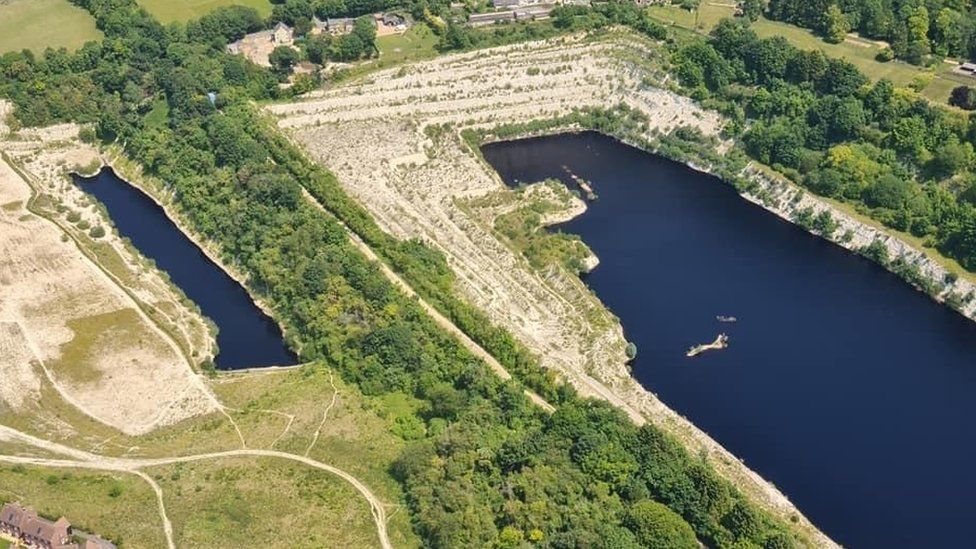 Colouring has been poured into "hazardous" pools at a disused quarry to stop people swimming in them.
Owners of the Old Kiln Lakes in Chinnor, Oxfordshire, Taylor Wimpey, has deployed security guards with dogs to patrol the site.
A spokesperson said the black colouring is a "deterrent" after a "recent influx of visitors".
Thames Valley Police said the lakes "should not be visited under any circumstances".
Residents have complained about drug dealing at the site and said that up to 1,000 people visited over one weekend.
The colouring poses no risk to wildlife and will be topped up every three to six months. But the "hazardous" water remains high in alkaline content and unsuitable for swimming, Taylor Wimpey's spokesperson said.
Thames Valley Police previously warned the water in the pools was "can cause serious health issues" and that the area is "extremely dangerous".
Supt Lis Knight said dispersal orders to bar people from the site would be used if "necessary and proportionate".
It has been owned by Taylor Wimpey since 2010.
A small part of it is a publicly accessible nature reserve but other parts are fenced off with warning signs.
Water in the nature reserve has not been coloured.
Related Internet Links
The BBC is not responsible for the content of external sites.