Abingdon industrial estate fire: Buildings evacuated in blaze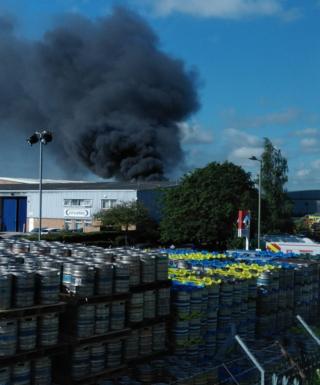 Fire crews are fighting a large blaze at an industrial estate in Oxfordshire.
At its height, eight fire engines and about 50 firefighters were at the scene at Nuffield Way, Abingdon, and several buildings were evacuated.
Cylinders on the site became "fireballs" in the blaze, firefighters said, but no injuries were reported.
Oxfordshire County Council has warned motorists to avoid the area. It said smoke was blowing across the A34, although it has remained open.
The fire is believed to have started at about 8:30 BST.
A statement from Oxfordshire Fire and Rescue Service said the fire began when cylinders at the site "vented-off", which produced "significant fireballs".
The blaze "rapidly escalated and crews worked hard to prevent the fire spreading to neighbouring businesses," said the fire service, which is now scaling back its operation.
Some crews are expected to remain at the scene for some time, and the status of the cylinders on site is being monitored.
Witnesses told the BBC that the fire appeared to have started at Zircotec, a company that specialises in exhaust coatings.
A worker at the industrial estate told the BBC: "I noticed there was smoke coming out of the building opposite, and soon after the firemen told us to evacuate the area, so we just got out and followed everyone else.
"The smoke was bellowing out of the building. It was pretty thick and black. It looked pretty mean."
Another eyewitness described how "you could see all the smoke coming out of the doors".
He added: "We cleared to the other side of the road, and you could see more black smoke, and hear the bangs and cracks."
A police cordon and several road closures are in place.