Five things from Oxfordshire
Here are five stories from Oxfordshire which have been attracting attention this week.
1. Oxbridge 'over-recruits from eight schools'
Oxford and Cambridge are being accused of being so socially exclusive that they recruit more students from eight top schools than almost 3,000 other English state schools put together.
The Sutton Trust social mobility charity says the leading universities are failing to attract a wide enough range of talent.
Trust founder Sir Peter Lampl said all young people needed a "fair chance".
Oxford University said it was "very aware" it "must work harder".
2. Oxford University students give candidates their top interview tips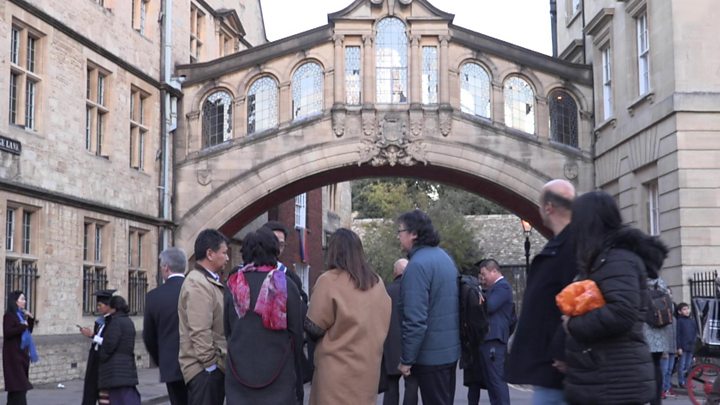 Whichever school you went to, if you manage to get an interview to study at Oxford University it is still going to be a daunting prospect.
Here are some top tips from That Oxford Girl student ambassadors who have gone through the process.
3. Two escape car after Abingdon River Thames crash
Two people were "lucky" to survive when their car crashed into a parked vehicle before plunging into the River Thames.
Oxfordshire Fire and Rescue Service said the two escaped from the fully submerged car, off Wilsham Road, in Abingdon, and swam to safety.
The crash, which happened in the early hours of 1 December, saw fire crews use a water rescue boat and underwater camera to search for further people and vehicles.
A woman was treated at the scene for shock and signs of hypothermia.
4. M40 fatal crash: Police 'warned' about wrong-way driver
Concerns about a driver were raised with police just days before a SUV towing a caravan travelled the wrong way down the M40, killing three.
Driver John Norton, 80, and passenger Olive Howard, 87, from High Wycombe, died when their Subaru Forester crashed in Oxfordshire.
Mondeo driver, Stuart Richards, 32, from Stockport, also died.
Thames Valley Police referred itself to the police watchdog "due to previous police contact".
5. School caps teacher presents at £50
An independent school has introduced a £50 cap for presents to teachers.
St Helen and St Katharine School said extravagant gifts and cash-equivalent vouchers were placing staff "in an awkward position".
A letter to parents at the £5,490-a-term school in Abingdon said students could present non-cash gifts to the value of more than £100 as a group.
School bursar David Eley said it had a "great" relationship with parents but needed to "ensure strong governance".