M40 fatal crash: Police 'warned' about wrong-way driver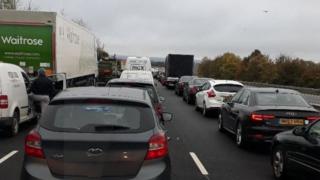 Concerns about a driver were raised with police just days before a SUV towing a caravan travelled the wrong way down the M40, killing three.
Driver John Norton, 80, and passenger Olive Howard, 87, from High Wycombe, died when their Subaru Forester crashed in Oxfordshire.
Mondeo driver, Stuart Richards, 32, from Stockport, also died.
Thames Valley Police referred itself to the police watchdog "due to previous police contact".
The Independent Office for Police Conduct (IOPC) has now given details of the previous incident.
The IOPC said the Subaru - with Mr Norton believed to be behind the wheel - had struck a parked car in High Wycombe on 10 October, five days before the motorway crash.
The owner of the parked car, who was in it at the time, reported the crash online.
He raised concerns about the Subaru driver's fitness to drive and the safety of other road users.
"It is believed that the driver of the Subaru on 10 October was Mr Norton," the IOPC said.
Regional director Sarah Green said it was examining whether the response from Thames Valley Police adhered to relevant guidelines and policies.
"We are also looking to see whether there are any areas for potential amendments to policies and practices which may assist in reducing the likelihood of something this devastating occurring again," she said.
Mr Richards was in the Army for nine years, serving as an engineer and safety officer in Iraq, Afghanistan and Jordan.
After leaving, he worked as a health and safety adviser for Persimmon Homes.