Oxford slavery trial: Alleged victim 'feared for life'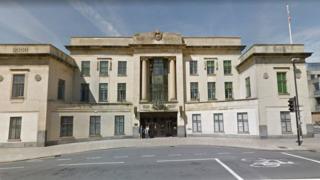 An alleged victim of modern slavery has told a court he was "petrified" of his captors and feared for his life.
The man was forced to work for little or no money at a travellers' site in Oxford, Oxford Crown Court has heard.
Michael Joyce, 59, his son Michael Joyce, 26, John Joyce, 34, and David Boiling, 33, deny five counts of modern slavery and forced labour offences.
Giving evidence via video link, the alleged victim said: "I was petrified by the Joyces. I couldn't leave."
The 49-year-old, who cannot be named for legal reasons, added: "I was fearing for my life. Not just for me but for my partner and my father."
But defence counsel Mark George QC told the court the man was never held against his own will at the Redbridge Hollow site.
The man replied: "I disagree. When you're taken there and you can't leave until they tell you to, I'd class that as not being able to leave."
'Serious drug habit'
Mr George also accused him of "creating false records" to mask his drug addiction, referring to a diary where he recorded payments he claimed he was forced to make to Mr Joyce.
He claimed there were previous examples, including when he used a fake credit card he confiscated at a supermarket petrol station he once worked at and created false transactions and when he worked at a personal loans agent and created false accounts to obtain about £2,500.
Mr George said: "You had a serious drug habit and you tried to cover up your tracks by making false records."
The alleged victim denied Mr George's claims.
The court has previously heard the alleged victim and another 28-year-old man were forced to work at the travellers' site to pay off debts.
The trial continues.