Oxford grooming trial: Man denies raping schoolgirl in flat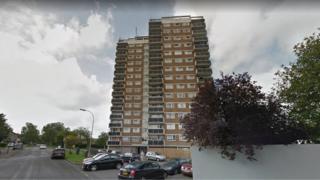 A man has denied raping a 15-year-old girl, but admitted he engaged in a sex act with her in a park.
Anjum Dogar, 36, told Oxford Crown Court he thought the schoolgirl was over the age of 16 at the time.
Prosecutors have accused Mr Dogar of raping the girl in 2004 in Plowman Tower in Headington, Oxford, with co-defendant Mohammed Karrar.
Mr Dogar, Mohammed Karrar, 44, and his brother Bassam, 39, deny 10 offences, including rape and indecent assault.
The woman, who cannot be named for legal reasons, said she was raped by Mr Dogar and Mohammed Karrar when she passed out in the flat after drinking.
She said she became pregnant as a result and chose to have an abortion.
But Mr Dogar said he had never been to Plowman Tower, nor did he know the owner of the flat.
People carrier
When asked by defence counsel Jacob Hallam QC, he said: "I never set foot in Plowman Tower."
He added the alleged victim "rarely got drunk".
Mr Dogar admitted the girl, and one of her friends, performed a sex act on him in South Parks in Oxford in about August 2004 but he said he assumed the girl and her friend were over 16.
Earlier, prosecutors said Mr Dogar had threatened the complainant and forced her to perform a sex act on him, and other men, in a people carrier parked in Cutteslowe Park.
He denied this and said the girl entered the people carrier of her own free will.
He said he did not engage in sexual activity on this occasion, but said: "I was aware that there was some kind of sex activity going on."
The trial continues.