Four Oxford men 'bullied and exploited modern slavery victims'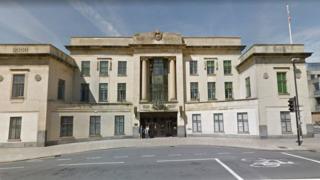 Four men "bullied and exploited" two "vulnerable" victims for up to 18 months, a modern slavery trial heard.
The men allegedly forced the pair to work for little or no money at a travellers' site in Oxford.
Michael Joyce, 59, John Joyce, 34, another Michael Joyce who is 26, and 33-year-old David Boiling deny five counts of modern slavery and forced labour offences.
They were charged following police raids in June this year.
Oxford Crown Court heard the alleged victims were forced to work at the Redbridge Hollow site in South Oxford to pay off debts, and they also had their benefit money taken from them.
Prosecutor Kim Preston said the pair were also given money to buy drugs to make them more indebted to the defendants.
Ms Preston said the four men "bullied, cajoled, threatened and exploited the pair and coerced them into committing crimes".
The victims were "vulnerable, weaker members of society", she said.
'He'd be stabbed'
Michael Joyce senior was known as "the boss man", the court heard.
His two sons and fellow defendants, John Joyce and Michael Joyce junior were his "enforcers".
It was claimed one of the alleged victims, who was 49, initially borrowed £50 from Michael Joyce Senior and was told it was "double bubble".
This meant he would need to pay back £100 the following week.
Ms Preston said £50 was "all it took to be indebted to demands and threats".
The jury heard the other man, aged 28, initially worked for half a day at Redbridge Hollow, but after he broke a circular saw he was forced to work for several weeks for little or no pay.
In video evidence one of the men said he was told "he'd be stabbed" if he didn't hand over money.
He said he was "petrified" of the defendants.
The prosecution say the same man handed over money for 18 months, which on occasion amounted to £1,000 a month.
The men deny all of the charges against them.