Swastikas appear near Oxford community centre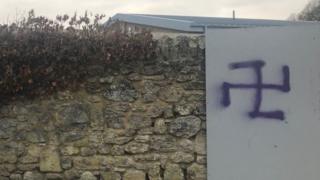 Swastika graffiti has been sprayed on walls around a community centre in Oxford.
The "Nazi signs" appeared on and nearby Headington Quarry Pavilion and were reported to the city council and Thames Valley Police.
They have now been replaced by posters saying "stand up to racism" and "stop the rise in racist attacks".
Labour city councillor Shaista Aziz spotted the swastikas while dropping off her nieces at school.
She tweeted: "Absolutely disgusted to see Nazi signs sprayed on a wall and building in Oxford this morning... this is how hate is normalised."
Councillor Nigel Chapman replied: "Absolutely agree. @Oxforddirectservices will be out this morning to clean this awful stuff off.
"This graffiti is an affront to #tolerantwelcoming Oxford."
A Thames Valley Police spokesman said: "I can confirm that we have received a report of graffiti on the Quarry Pavilion on Margaret Road in Headington.
"We are currently investigating and would ask anyone with information to please call 101 or go to our website quoting reference 43180353593."