Council finds 126 needles in Oxford churchyard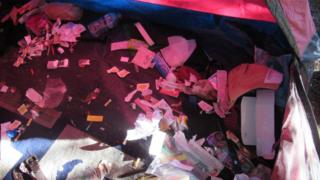 Seven tents and more than 100 used needles have been removed from a churchyard in Oxford city centre.
Oxford City Council said it was responding to a request from St Giles' Church and also found human faeces and used condoms.
It said it believes four of the tents, which did not contain sleeping bags, were being used as injection sites.
Orders were served on three other occupied tents, which have now been vacated.
Council officers removed 126 needles from the site, along with foil and associated drug paraphernalia.
A spokesperson said community response and outreach teams have advised the occupants of the tents how to access accommodation and support services.
Reverend Canon Andrew Bunch, Vicar of St Giles' Church, said: "It's an issue of safety.
"I know due to central government cuts the number of rough sleepers has increased.
"There are lots of problems. But the church is for everyone, including children. We need to keep it safe."
A council spokesperson said: "We will not accept this dangerous and reckless discarding of needles in a public space, or the unsanitary conditions."