Woodcote ram-raiders escape with stolen Lambrini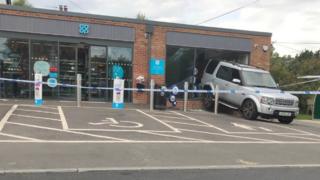 Four thieves who tried twice to raid a shop escaped with only a single bottle of Lambrini.
The raiders used axes and sledgehammers to smash their way into a Co-op in an attempt to steal a cash machine, but they were unable to remove it.
They returned later to the shop in Woodcote, Oxfordshire, but their stolen Land Rover Discovery got stuck.
Police believe they fled in a saloon car with the bottle of Lambrini. The perry drink costs about £2 a bottle.
The four people involved in the raids in the early hours of Sunday were dressed in dark clothing with balaclavas, with one of them wearing a baseball cap.
"The offenders made more than one attempt to steal the cash machine, and their efforts appear to have been thwarted by one of the vehicles becoming stuck," said Det Con Dan Tibble of Thames Valley Police.
"They all left the scene in what appeared to be a BMW 5 Series or similar."