Raiders steal £100k of jewellery from Pandora in Oxford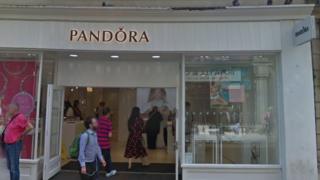 Raiders armed with crowbars forced their way into a shop and made off with about £100,000 of jewellery.
Five men, wearing balaclavas or hooded tops, broke into the Pandora store in Cornmarket Street, Oxford, at about 00:00 BST on Friday.
Police said the gang smashed glass cabinets and emptied the contents into waste bags.
They then left using a fire escape and walked across a roof, before climbing down to street level and making off.
Thames Valley Police said all five men were white.
One wore distinctive clothing including a red beanie hat and black and grey striped top, while another carried a navy blue rucksack with red detailing, the force added.