Glass Animals drummer 'learned to talk again' after lorry crash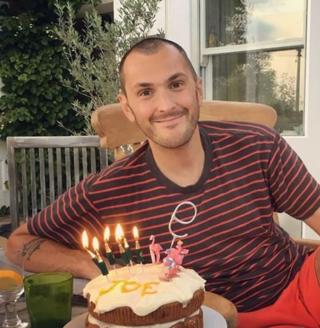 The drummer for indie band Glass Animals said he was "extremely lucky" after recovering from life-threatening injuries sustained in a crash.
Joe Seaward suffered a fractured skull and broken leg and had to learn to "walk, talk and read again" after his bike collided with a lorry in Dublin.
The accident on 2 July led the Mercury-shortlisted band from Oxford to cancel their tour of North America and Europe.
Mr Seaward said: "I have always taken my body for granted, I won't anymore."
The band have released two critically-acclaimed albums, Zaba in 2014, and the Mercury-shortlisted How to Be a Human Being in 2016.
On Instagram he wrote: "I am extremely lucky. My family and friends and the doctors and nurses in Dublin are remarkable people.
"The band and my family sat next to me in hospital for two weeks while I couldn't speak or move and haven't left me since, I've been looked after by the best.
"Watching a body heal in real time has been quite amazing, saying more than 'i' is actually very complicated and tiring, so is adapting to lots of metal in your limbs.
"Your support, messages, letters and videos have been inspiring. I'm so sorry if you missed us playing this summer, we will get back to those we missed when we can."
He also said he had learned "trucks are extremely hard".
Last year Glass Animals made headlines after their fans' habit of bringing pineapples to gig saw the fruit banned from Reading and Leeds festivals.