Abingdon family say biker 'lived life to the full'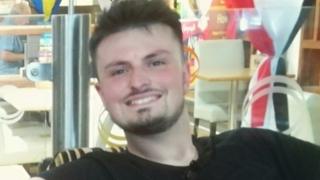 The family of a motorcyclist who died after he collided with a car have paid tribute to their "beautiful" son.
Billy Elbrow, from Abingdon, died after his bike collided with a car at the Milton Interchange near Didcot on 23 August.
His parents said the 20-year-old "loved and lived life to the full".
"Billy's' lovely welcoming smile, infectious laugh and cheeky mannerisms have touched so many people in his short life," they said.
Thames Valley Police said Mr Elbrow was taken to hospital, but later died from his injuries.
In a statement, his family said: "Billy always had a good outlook on life with a positive, can do attitude.
"If anyone that was ever in need, Billy would stop and offer help. He was such a kind thoughtful person."
Staff from his former school, John Masons School, said Mr Elbrow was a "bright light of a young man, with good, strong family values".