Dockless bikes blamed for closure of Oxford's original bike share scheme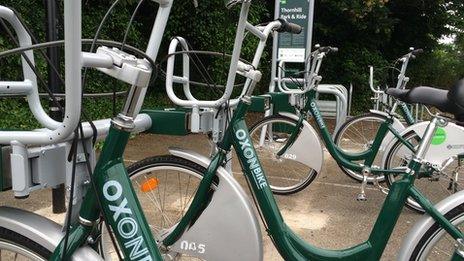 Oxford's first bike-sharing scheme has been forced to shut down because of other schemes in the city, says its owner.
Users of Oxonbike received an email from owner Hourbike on 15 August saying it had closed "with immediate effect".
It said the growth in so-called dockless bikes "has had an impact on usage levels of Oxonbike".
The scheme was launched in June 2013 in a bid to tackle traffic congestion.
Oxonbike had docking stations at locations around Oxford where users could unlock the bikes by using a code.
The end of the journey was recorded when the bike was securely returned to a docking station.
In the email, Hourbike apologised to Oxonbike users for closing the scheme.
The £150,000 project was funded through the government's Local Sustainable Transport Fund.
Oxford currently has four dockless bike schemes - Pony, Ofo, oBike and Mobike.
No docking stations are needed because users scan a code on the bikes with their mobile phone to unlock and lock them, allowing them to leave bikes anywhere.
People in Oxford regularly post images on social media of badly parked dockless bikes.
Dockless bike systems seem like a great innovation: Less vehicle traffic, more exercise, and greater mobility. Win. Win. Win. Oxford has three companies competing in the market: @ofo_bicycle, @Mobike and @getapony. It's too bad that the business model is broken. pic.twitter.com/vgNK9y1dvF

— Kevin Duco Warner (@nosleepforduco) July 16, 2018
Hourbike has been approached for further comment.
Related Internet Links
The BBC is not responsible for the content of external sites.