Demolition of arson-hit Oxfordshire council offices begins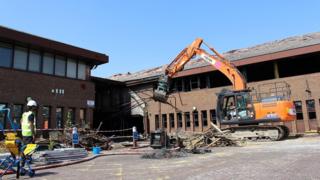 The demolition of council offices gutted by a "devastating" arson attack has begun.
The fire in Crowmarsh Gifford, Oxfordshire, was started using gas cylinders by Andrew Main in January 2015.
South Oxfordshire and Vale of White Horse district councils have been in temporary accommodation ever since.
Excavators have started to dismantle the building's reception area, where the fire was started.
It is expected to take about three months to completely clear the site.
The councils are planning to build a new smaller headquarters at the same site, which is owned by South Oxfordshire District Council.
Council leader Jane Murphy said: "So far, everything is going to plan and the demolition work is being carried out with neighbouring properties in mind.
"We're continuing to work with the contractors to minimise disruption and I'd once again like to thank residents for their patience."
Main, 47, from Rokemarsh, was detained in a mental health unit in May 2015.
Sentencing, Judge Ian Pringle described the fires as "utterly devastating".
Main started three blazes in total, which also damaged a funeral parlour and a thatched cottage.
Oxford Crown Court heard the estimated cost of damage from the fires was about £20m.
Adrian Foster, chief prosecutor for Thames and Chiltern Crown Prosecution Service, said the motives behind his actions remained "unclear".
Both authorities are currently based at Milton Park, Didcot, where they moved six months after the fire.