Didcot Power Station demolition date confirmed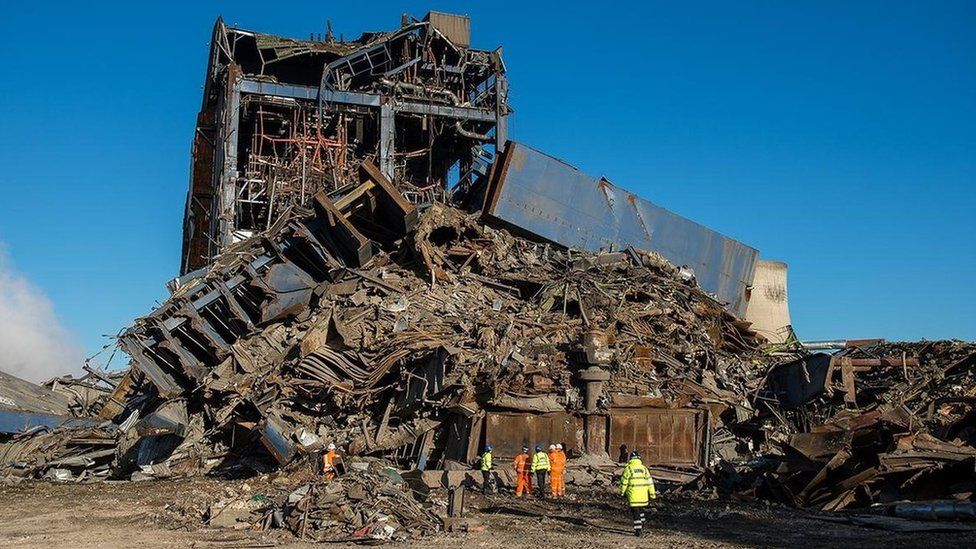 The demolition of the remainder of the Didcot A Power Station, near to where a building collapse killed four men, has been scheduled for 2019.
The site was at the centre of a major incident when its boiler house came down in February 2016.
Owner RWE Npower said it would clear the site of smaller buildings and make the area safe this year.
The clearance of the towers and chimney is expected to be completed by the end of next year.
Workers Ken Cresswell, 57, John Shaw, 61, both from Rotherham, Michael Collings, 53, from Teesside, and Christopher Huxtable, 34, from Swansea, died in the collapse.
Thames Valley Police is considering manslaughter charges, but demolition firm Coleman & Company, which employed the four men, claims there are "no grounds" to associate it with a manslaughter investigation.
The Health and Safety Executive is also carrying out an inquiry.
An RWE Npower spokeswoman said: "We have agreed a demolition plan for the remainder of the Didcot A power station site which includes demolition of the north cooling towers and chimney.
"The programme for this year will also involve the clearance of all low level buildings, disposal and recycling of demolition materials and making the site safe for future use.
"Explosive demolition of the cooling towers and chimney is planned for summer 2019 and we therefore anticipate full demolition of the Didcot A site to be completed by the end of next year."
The coal-fired Didcot A Power Station was turned off in 2013, after 43 years in service, and three cooling towers were demolished in 2014.
The original plan was to have the site cleared by the end of 2017.
A gas-burning power station - known as Didcot B - opened in 1997 on the site and continues to operate.
Related Internet Links
The BBC is not responsible for the content of external sites.