Fix your own pothole plan in Oxfordshire a 'backward step'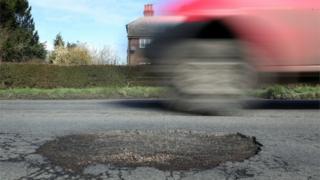 Plans to get communities to fix their own potholes have been described as a "backward step".
Oxfordshire County Council is considering handing over grants to parish and town councils who would carry out repairs on its behalf.
Some local authorities are piloting the scheme but others have refused.
"The county council is legally responsible for the roads, and it's not doing that," said Allan Cobb of Kennington Parish Council.
The county council said it had received a lot of complaints about the condition of Oxfordshire's roads.
In September 2015 it launched a scheme called Oxfordshire Together (OXTOG) that aimed to get residents "to take part in running the place where they live" to "make the money go further".
OXTOG mainly focused on grass cutting but there are now plans to give parish and town councils grants to "directly deliver funded services on the county council's behalf", including temporary pothole repairs.
"The initiative offers a list of options the parishes can choose to take up only if they wish," a county council spokesman said.
"There is no expectation or requirement for parishes or towns to take up any of them, but the option will be there if they need to."
A handful of local authorities are testing out the scheme.
"The state of many of the roads are a real danger to drivers and cyclists," said David Pheasant, vice-chairman of Shiplake Parish Council.
"We have seen an improvement in repair response times since becoming involved.
"In the long term we would hope increased financial funding for roads materialises."
Mismanagement
Kennington Parish Council, meanwhile, said it had declined the offer.
"If we take that on it would be a backward step," said vice-chairman Allan Cobb.
"We don't have a large legal department like the county council. If we needed any legal help, we would need to pay for it.
"It's total mismanagement by the county council."