Armed robbers hit store worker with 'firearm' in Oxford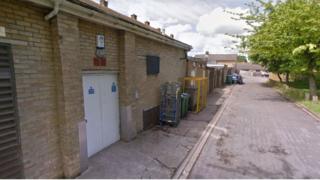 Two men robbed a Co-Op store and assaulted a staff worker with what is believed to be a firearm in Oxford.
The store employee was hit over the head with a weapon and taken into the store room at 21:20 BST on Friday.
She was then hit again and forced to open a safe, from where they stole a large amount of cash.
Police say the men were wearing balaclavas, dark jackets and light blue jeans.
They fled from Atkyns Road on foot before getting into a car, parked off Chillingworth Crescent, near the Eastern Bypass A4142.
Det Ch Insp Clare Knibbs said the incident was "very traumatic" for the 22-year-old victim and added police had increased their presence in the area.
Police want to speak to anyone who may have seen the car.