Ladygrove Lakes closed after discovery of dead fish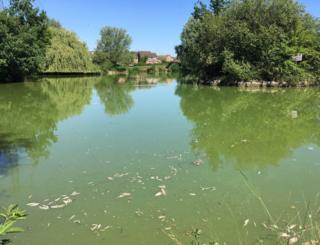 People have been warned to keep away from a fishery after the discovery of dead fish and blue-green algae.
Didcot Town Council said Ladygrove Lakes in Oxfordshire would be closed until further notice and the pathways around it cordoned off.
The Environment Agency is at the scene, using an aerator to add oxygen to the water to help the fish.
The algae is naturally occurring, usually during periods of calm, warm weather.
Toxins produced by blue-green algae can cause skin rashes, nausea, vomiting, stomach pains, fever and headaches.
A council spokesman added: "Livestock and dogs should also be kept away, so please ensure that you keep a close eye on children and dogs when nearby."
The Environment Agency tweeted: "We responded to reports of a fish kill in Didcot today.
"Hot sunny weather increases the risk of algal blooms like this one."