Poundland killing: 'Brave' officers honoured for arrest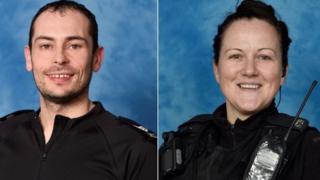 Two police officers who arrested a man after he fatally stabbed someone in a Poundland store have been nominated for bravery awards.
Trevor Joyce attacked Justin Skrebowski with a knife from the shop in Abingdon, Oxfordshire, in December 2015.
Sgt Mark Allmond was off duty with his family when he stepped in to help, and PC Alex Quigley arrived shortly after.
Craig O'Leary of Thames Valley Police Federation said both showed selflessness and courage.
Sgt Allmond, 38, was with his wife and two young children when he heard shouting so loud he thought it was the town crier.
"Then I looked out and saw a man with a knife up to an elderly guy's throat," he said.
"I put my daughter down, spun round, and asked my wife to call the police… I could tell something bad had happened because there was a lot of blood in there."
Thinking it could be a terrorist attack - the stabbing came soon after the Leytonstone tube attack - Sgt Allmond warned people to stay back as Joyce slashed at shoppers and children.
Sgt Allmond said: "I was trying to pick my opportunity to tackle him, because it's not like the movies - if you tackle someone with a knife you get hurt.
"But I distracted him enough and he put his anger towards me."
PC Alex Quigley then "hurtled" on to the scene in an unmarked police car and challenged Joyce with her Taser.
He dropped the knife, enabling Sgt Allmond to restrain him.
Joyce was jailed for life in 2016.
The sergeant admitted the nomination was "massively humbling" but insisted he and his colleague "were just doing our jobs".
He added: "Not a day goes by that I don't think of the victim. It's such a sad and tragic event."