Oxford grooming gang: Six members jailed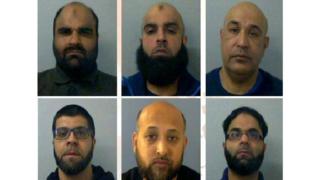 Six men from Oxford who groomed and sexually abused teenage girls between 1998 and 2005 have been jailed.
Assad Hussain, 37, of Iffley Road, will serve a life sentence with a minimum term of 12 years for multiple rapes.
Judge Peter Ross said victims were brought into the group, who were convicted of more than 20 offences, through flattery, drugs and alcohol.
Oxford Crown Court heard they were also subjected to threats and violence, and made to have sex with other men around.
'Fear and violence'
Hussain was described as using one victim as a "sexual object".
Judge Ross said Moinul Islam, of Wykeham Crescent, who was jailed for 15 years and nine months, had a child "completely at his mercy".
In his summing up he said sexual abuse had become "the norm" for the men.
The NSPCC said the victims, aged between 13 and 15, "would not be silenced" despite a "campaign of fear and violence" from the men.
Two other members of the gang - Kamran Khan, 36, from Bolton and Raheem Ahmed, 41, from Oxford - were jailed in April.
Verdicts and sentences
Assad Hussain, 37, of Iffley Road, Oxford, guilty of five counts of rape and two counts of indecent assault, sentenced to life, to serve a minimum term of 12 years
Kameer Iqbal, 39, of Dashwood Road, Oxford, guilty of three counts of rape, sentenced to 12 years
Khalid Hussain, 38, of Ashhurst Way, Oxford, guilty of rape and indecent assault, sentenced to 12 years
Kamran Khan, 36, of Northfield Road, Bolton, guilty of indecent assault and false imprisonment, sentenced to 8 years
Moinul Islam, 41, of Wykeham Crescent, Oxford, guilty of rape, two counts of indecent assault and supplying cannabis, sentenced to 15 years and nine months
Raheem Ahmed, 40 of Starwort Path, Oxford, guilty of two counts of indecent assault and false imprisonment, sentenced to 12 years
Alladitta Yousaf, 48, of Bodley Road, Oxford, guilty of indecent assault, sentenced to 7 years and 6 months
Haji Khan, 38, of the Willows, Oxford, guilty of conspiracy to rape, sentenced to 10 years