Witney's World Poohsticks Championships mark 35 years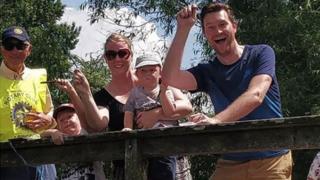 About 500 people have taken part in the 35th annual World Poohsticks Championships in Oxfordshire.
Inspired by AA Milne's classic Winnie the Pooh books, the charity event sees competitors race sticks under a bridge on the River Windrush at Langel Common.
This year's team game winner was "Kids R Us", from Beaconsfield, Buckinghamshire, while "Innes", of Oxford, was declared individual champ.
The event raises about £3,000 each year.
The money is split between local and national charities, including the RNLI.
In 2015, an appeal was launched to find a new venue for the event, which attracts about 1,000 spectators each year, after an increase in popularity meant the original spot on the Thames at Day's Lock was no longer suitable.
Organisers, the Rotary Club of Oxford Spires, eventually chose the River Windrush bridge, which links Witney with Cogges Manor Farm and is a filming location for ITV drama Downton Abbey.
In 2013, the championships were cancelled because of high river levels on the Thames.
The game originates from author AA Milne's Winnie the Pooh novel, The House At Pooh Corner.
Poohsticks game rules:
Select a stick, face upstream, side by side with fellow competitors
Choose either the oldest or the youngest competitor as a "starter"
Competitors must hold their stick at arms length over the stream, usually from a bridge, at the same height as the shortest competitor's stick
All competitors must drop, and not throw, their sticks into the water at the same time, on the starter's call
The players must then cross to the downstream side of the bridge and wait for the sticks to emerge
The owner of the first stick to float from under the bridge is the winner
Source: Rotary Club of Oxford Spires