Oxfordshire flooding hits Didcot Parkway station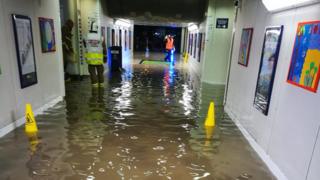 Roads were shut and rail commuters forced to wade through a foot of water as torrential rain caused flash flooding in Oxfordshire.
Between 17:00 and 18:00 BST on Thursday, 21.2mm of rain fell on RAF Brize Norton, the Met Office said - the heaviest in the UK.
Botley Road, one of the main routes into Oxford city centre, was closed because of flooding.
At Didcot Parkway station passengers had to wade through water to get out.
About 100 people at an Oxford Pride event also had to be evacuated from the Old Fire Station arts venue as water came through the roof.
Thunderstorms hit the county for about five hours about 17:00 BST.
Botley Road had to be shut on Thursday evening because several feet of water had gathered under the railway bridge. More than 40 taxis and six coaches were called to help stranded passengers onboard trains on the Bristol to London Paddington line.
The road has since reopened.
Commuters at Didcot Parkway railway station also had to wade through water on Thursday evening which had poured into the station.
But commuters posted pictures on social media on Friday morning showing the station had since dried out.