Georgian independence petition 'found' in Oxford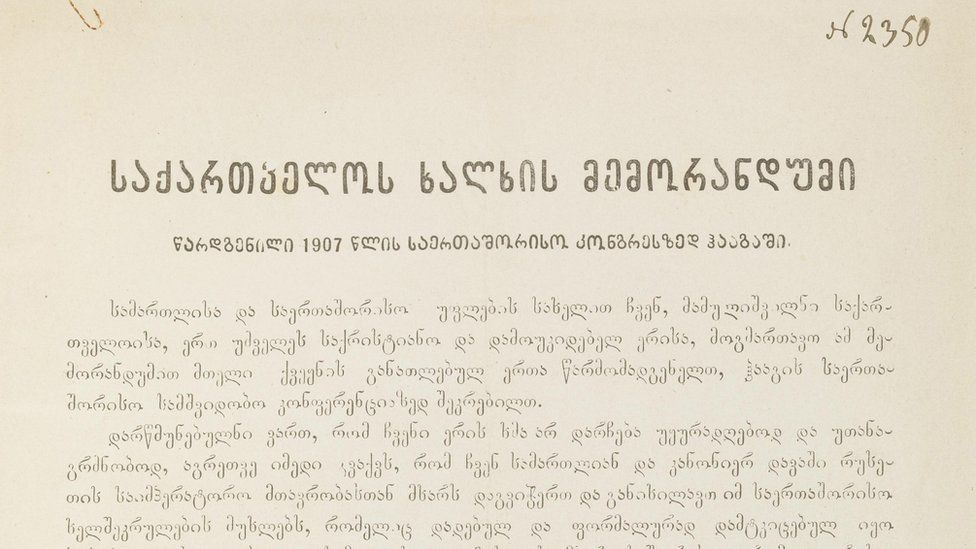 A 111-year-old petition calling for autonomy and rights for the Georgian people has been discovered in Oxford.
The Petition Of The Georgian People has been held by the Bodleian Libraries since 1920, but its significance has only just been revealed.
It outlines grievances against Russian policies and was signed by 3,000 men and women.
It was the first time people across Georgia had spoken out for rights in this way, the Bodleian Libraries said.
It was presented to the 1907 Hague International Conference but did not lead directly to independence, which came in 1918.
The petition was instigated by Georgian nationalist, Varlam Cherkezishvili, who escaped from Siberian exile in the 1870s and settled in London, where he became friends with Sir Oliver and Marjory Wardrop.
Both developed a passion for Georgian culture and Sir Oliver would later donate the petition to the Bodleian Libraries as part of the Wardrop Collection.
It was catalogued in the 1970s but its significance was only realised in the past few weeks by Georgian academics Dr Beka Kobakhidze and Dr Nikoloz Aleksidze, and Dr Gillian Evison, from the Bodleian Libraries.
Dr Kobakhidze, Georgian Studies Fellow at the University of Oxford, said he was "honoured" to play a part in making the "forgotten names public after 111 years".
He added Georgians would be interested to see if their great grandparents or relatives names appear amongst the signatories.
Librarian Richard Ovenden said the discovery showed the "important role libraries play in the preservation and dissemination of information".
"I hope the interest in this item will encourage greater scholarship on Georgia, the Wardrops, and this turbulent period of history," he added.
Related Internet Links
The BBC is not responsible for the content of external sites.