Stadhampton man jailed after paedophile hunter sting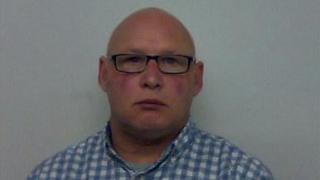 A child sex offender who was caught by a group posing as a teenager on social media has been jailed for four years.
Peter Sean Hicks, of Stadhampton, Oxfordshire, pleaded guilty to grooming a girl under the age of 16.
He was caught by a group known as the Shadow Hunters who live-streamed meeting him on Facebook.
At Oxford Crown Court, Judge Peter Ross criticised the group's actions, saying it "could make a fair trial impossible".
Prosecutor Julian Lynch told the court how the Shadow Hunters, which are based in Kent, had created a Facebook account for a fictional 14-year-old girl called Chloe Jones.
He said that Hicks, 48, made contact with the girl claiming he was 20 years old.
Mr Lynch said Hicks quickly struck up a "conversation of a sexual nature" on the social media site's private messenger function, offering money to the girl to watch him perform sex acts.
The court heard how Hicks - who appeared via video link - had arranged to meet the girl at Oxford railway station on 5 March.
Members of the Shadow Hunters group , who were waiting for him, received a message from him saying to meet him at a petrol station in Stadhampton instead.
Once there the group confronted Hicks and live-streaming the incident on Facebook bfeore calling the police.
The court heard how Hicks had 18 previous sexual offences dating from 1988, including indecently assaulting one female under 14 years old and another female who was under 16.
In sentencing Hicks to four years in prison and four years on licence for grooming a girl under the age of 16, Judge Ross told Hicks that, had the sexual activity taken place, it would have caused "great harm".
But the judge finished by criticising the actions of the Shadow Hunters, saying they had "no business" confronting and detaining Hicks.
"That's a matter for the police, and the police only," he said.
"The incident was live-streamed. That could cause prejudice which could make a fair trial impossible."