Damien Hirst felt-tip drawing sells for £5,500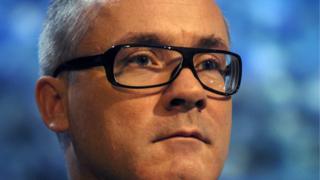 A felt-tip drawing on paper by the artist Damien Hirst failed to reach its guide price at auction.
"Charity - It Begins at Home" features a girl holding a teddy bear, with the artist's signature and the inscription: "It begins at home".
The hand-drawn picture by Hirst, who won the Turner Prize in 1995, had been expected to fetch between £6,000 and £8,000.
It sold to a bidder in the room for £5,500.
Measuring 25cm x 18.5cm, it went under the hammer at Mallams in Oxford.
It was one of over 700 works brought together under the umbrella Design and Modern British, and Post-War Art at the auction house.
One of Britain's most controversial artists, Hirst has previously bisected a cow and calf, and a covered a skull in more than 8,000 diamonds.
One of his most famous works featured a tiger shark in a formaldehyde-filled tank.