Carterton Co-op latest Oxfordshire shop to be 'ram-raided'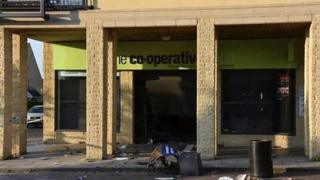 A cash machine has been stolen during another "ram-raid" in Oxfordshire.
In the latest incident raiders targeted the Co-op in Marigold Square, Carterton, at about 01:30 BST, police said.
There have been a series of break-ins at stores using vehicles in the county this year, including ones in Oxford and Didcot.
No arrests have been made. Thames Valley Police is not ruling out a link between some of the crimes.
The force said it believed "a number of male offenders" were involved in the latest break-in.
A police helicopter was used in a search for the vehicle, which was linked to a crime in the Carterton area, but it got away.
"Part of our investigation strategy will be looking at similar offences to help us identify offenders", a spokeswoman said.
Hanbrough councillor, Liam Walker, was concerned the break-in had taken place so soon after previous raids and called for more to be done to protect staff.
In January, a vehicle was used in an attempted break-in at a Co-op in Charlbury, west Oxfordshire, and in March another Co-op in Long Hanbrough was targeted.